Rockport Village wakes up Saturday to colorful traditions of Portland couple's Sikh wedding
ROCKPORT — Saturday morning, Rockport Village was the site of an elaborate wedding ceremony that is well-known and common in many places around the world, but not one often seen in Maine.
Destination Sikh Weddings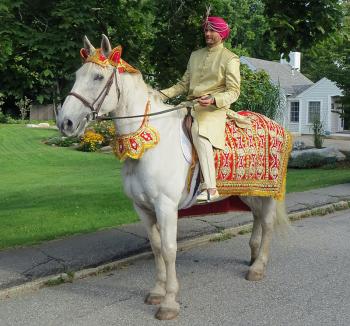 The Sept. 13 wedding of Yasmin and Johann of Portland brought bright colors, public displays of family respect and affection - and a handsome groom on a decorated white horse. Theirs was a Sikh wedding, celebrating the traditions of what is considered one of the most modern religions of India, just over 500 years old.
According to Johann, originally from Bethel, they wanted a destination and choose Rockport for its harbor views and quaint locale. They were also able to parade in celebration on the street, with a horse, without too much red tape for permission or disruption to the village's light traffic.
In fact, their customs were cause for residents and passersby to join in with their own cameras and admiration, capturing the moments in photos and memories as they unfolded.
For Yasmin and Johann, their traditional Sikh ceremony took place in Union Hall, above Salt Water Farm restaurant. It was preceded Friday night by a rehearsal dinner at Rockport Marine Park and followed by a luncheon Saturday afternoon, again at Rockport Marine Park. The couple's white dress ceremony was held at Cellardoor Winery in Lincolnville, with a reception after.
Johann's arrival to the ceremony in Union Hall was on a white horse, walking down Central Street from the Rockport Public Library to meet the bride's family at Goodridge Park. He and his steed followed behind his family and his friends, per tradition, all of which was lead by a drummer with those walking dancing, clapping and singing en route.
Editor's note: This story has been edited to correct the error that this was a Sikh wedding, not Hindu as originally noted.
---
http://www.penbaypilot.com/article/rockport-village-wakes-saturday-colorful-traditions-portland-couple-s-sikh-wedding/40656